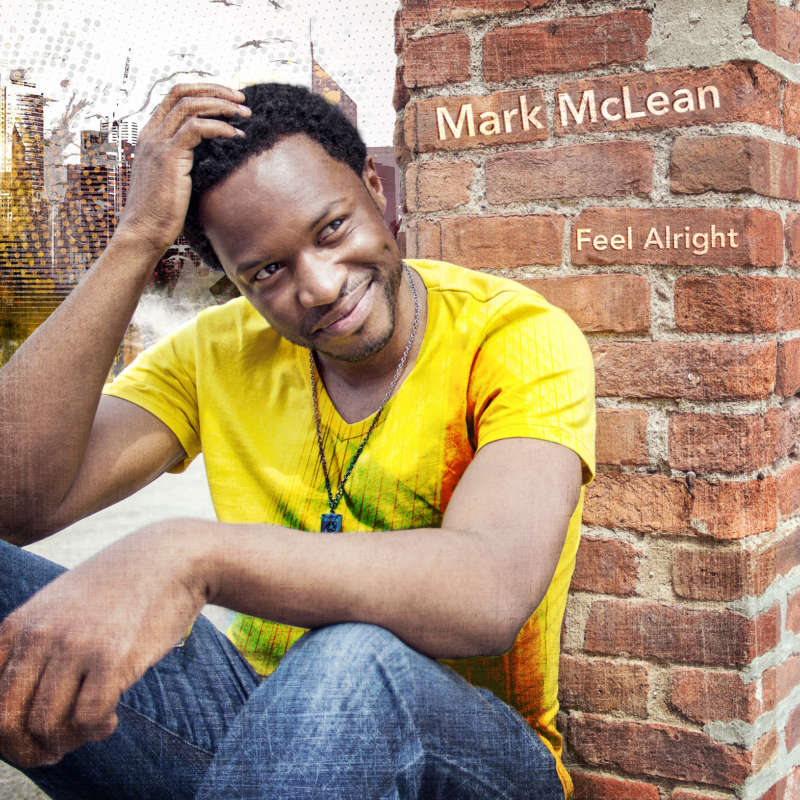 Track List
| | |
| --- | --- |
| 1 | Shining Star Be Mine (feat. Wade O. Brown) |
| 2 | 24 Years (feat. Kellylee Evans) |
| 3 | Sugar Bones (feat. Lamont Jefferys) |
| 4 | January Rain (feat. Andy Bey) |
| 5 | Surrounded By You (feat. Howard Fishman) |
| 6 | Where's The Door? (feat. Denzal Sinclaire) |
| 7 | Damn Shame (feat. Lester McLean) |
| 8 | Only Friend (feat. Michael Dunston) |
| 9 | Angel On Your Pillow (feat. Wade O. Brown) |
| 10 | Silent Prayer (feat. Andy Bey) |
| 11 | Feel Alright (feat. Andy Bey) |
---
May 5, 2014 (Independent)
One of the most dynamic and versatile studio and touring drummers in the jazz, R&B and pop realms over the past 15 years, Mark McLean had a single criterion when it came time to expand his horizons beyond the groove and record his long awaited breakout as a powerhouse composer and lyricist: it had to Feel Alright.
In an industry that often prefers pigeonholing to expansive creative expression, the multi-talented artist – whose credo is "I don't want to be seen as a drummer, I want to be known as a musician whose instrument just happens to be drums" – breaks all the rules on this eclectic 11 track set, sharing his love for everything from old school soul, down and dirty blues/funk and traditional jazz to Southern folk-pop with a zydeco twist, Rat Pack-like swing, edgy pop/rock and New Orleans brass band music. 
While a complete one-eighty in vibe and vision, Feel Alright is the follow-up to McLean's acclaimed 2010 indie recording Playground, an all-instrumental showcase for his band of the same name whose tracks earned significant airplay on both traditional jazz and urban jazz stations. The new album is produced by Grammy winning engineer and producer Steve Bigas, well known for his previous work with Taj Mahal and Ziggy Marley and for his long association with Daniel Lanois.
---
Musicians:
Mark McLean - Drums, Piano (except 6 & 10), Rhodes & B-3
JK - Bass (1 & 9)
Adrian Eccleston - Guitar (1 & 7)
Chris Rouse & Amoy Levy - Backing vocals (1 & 8)
Steve Bigas - Bass (2, 7 & 8), Guitar (2,8 & 9)
Nathan Peck - Bass (4 & 5)
Tim Lefebvre - Bass (3)
Russell Farhang - Violin (5)
Greg Neid - Accordion (5)
Xavier Davis - Piano (6)
Peter Slavov - Bass (6)
Kirk Starkey - Cello (10)
William Sperandei - Trumpet (11)
Etienne Charles - Trumpet (11)
Kenny Bentley - Sousaphone (11)
Horn Section (3 & 9)
Jason Logue - Trumpet
William Sperandei - Trumpet
John Johnson - Alto, Tenor & Baritone Saxophone
William Carn - Trombone
Feel Alright Men's Chorus
Mark McLean, Steve Bigas and Marcone
Produced by Steve Bigas
Recorded at Porcelain Records  (www.porcelainrecords.com)
Hamilton, ON Canada 
Engineered by Marcone
Recorded at Vinegar Hill Sound (www.vinegarhillsound.com)
Brooklyn, NY  USA     
Engineered by Justin King
Recorded at Phase One Studios (www.phaseonestudios.com)
Toronto, ON Canada
Engineered by Marcone
assistant Engineer:  Mike Chin
Recording sessions took place between June 2012 & March 2013
Mixed by   Steve Bigas  (April 22 & 23, 2013 at Phase One Studios)
Mastered by   Peter Letros at Wreckhouse Mastering (www.wreckhousemastering.com)